Coronavirus Information
for Palm Beach County PARENTS & FAMILIES
Page Updated: April 1, 2020
Parent & Family E-Mail Blasts/Updates:
How To Be Mindful Of Your Mental Health
While Keeping Children Safe During A Quarantine
Upcoming Events & Opportunities: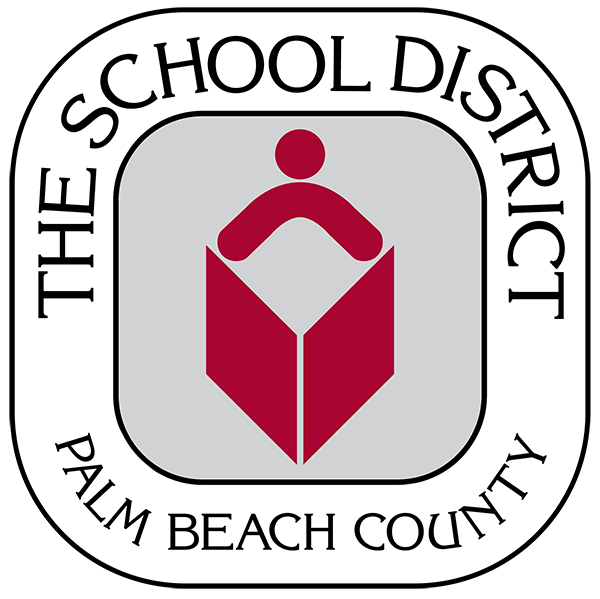 The School District of Palm Beach County's commitment to feeding students while schools are closed continues. Starting March 30, 35 sites across Palm Beach County will be distributing 'Grab and Go' bags filled with breakfast, lunch, supper, and a snack. Boxes of food from Feeding South Florida will also be available on specific dates per location.

Please be sure to check the full list of food distribution locations as some have changed. The schedule for the box food distribution, courtesy of Feeding South Florida, has also changed. 

Food distribution will be from 11 a.m. to 1 p.m., and the meals are FREE to anyone under 18 years of age (under 22 for ESE students), regardless of financial need.

The USDA has provided a waiver to allow parents/guardians to pick up meals without the child being present.  The parent/guardian needs to provide confirmation of the number of children for which they are picking up meals by one of the following methods: Student ID, passport, library card, or a photo with the adult and children. The parent will hold up the identification to the staff, and meals will be provided for the number of children identified. Drivers are asked to open their trunks or the window of an unoccupied seat to have food placed inside the vehicle to help maintain a safe distance.

The meals provided may contain allergens. Adults picking up the food are asked to be vigilant and ensure they do not take food if allergies may be a concern.
Food Distribution Sites (March 30-April 3)

Boca Raton High School

Belle Glade Elementary School

Benoist Farms Elementary School 

Congress Middle School

Conniston Middle School

Forest Park Elementary School

Gove Elementary School 

Greenacres Elementary School 

Hammock Pointe Elementary 

Highland Elementary School

Hope - Centennial Elementary School

Howell Watkins Middle School 

Indian Pines Elementary School 

J.C. Mitchell Elementary School

Jupiter Elementary School

Lake Park Elementary School

Lake Worth High School

Lantana Middle School

Lincoln Elementary School

Loxahatchee Groves Elementary

Northmore Elementary School

Okeeheelee Middle School

Osceola Creek Middle School

Pahokee Elementary School

Palm Beach Lakes High School

Palm Springs Community Middle School

Pine Jog Elementary School

Rolling Green Elementary School 

Roosevelt Elementary School

Rosenwald Elementary School 

Suncoast High School 

Tradewinds Middle School

Village Academy

Wellington High School 

Wynnebrook Elementary School
Important Updates:
You may be wondering why some preschool programs are open and some are closed. Each early learning preschool or child care center can make the individual decision to stay open or temporarily close. Until the State or County make any other determinations, they can continue to provide care.
If you find that you are having a hard time finding child care, we are here to help. If you have questions about child care options, please call our Family Resource Line: 561.514.3300.
It is important to know for all re-determinations and child care applications--we can help you online and over the phone. You do not have come in to our office for assistance; we can offer the same great services via phone or online appointments. If you are unable to meet via phone or online, we are here to help you. Please call our Family Resource Line 561.514.3300 to make an appointment.
Who to call with Coronavirus (COVID-19) questions?
The Florida Department of Health has opened a 24-hour hotline and email account for all coronavirus questions:
1 (866) 779-6121
Parents Extended Learning Opportunities
Week Two | Cognitive Development
(Available in English & Spanish Below)

Click on the images above for PDF (print-friendly) versions
 of the Week 2 Calendars.
Parents | Extended Learning Opportunities Videos
We hope you enjoy this week's Parents Extended Learning Opportunities above:
ELCPBC "Learning Through Play"
A Resource Guide to Support Learning at Home
(Click Below to Download the Flyer with Clickable Links)
---
Helpful Community Resources
We will ongoingly update the below list of local resources that Palm Beach County families may find helpful in these uncertain times.
State and Federal Resources
Mar 30, 2020
JUNO BEACH, Fla. – Florida Power & Light Company today announced its plan to significantly lower bills for the second time this year and fast-track savings to customers amid the ongoing coronavirus (COVID-19) pandemic. Subject to Florida Public Service Commission approval, beginning May 1, FPL plans to issue a one-time decrease of nearly 25% for the typical residential customer bill as a result of lower fuel costs.
In Florida, FPL and other electric providers traditionally refund any fuel savings to customers over many months. However, given the abrupt financial challenges facing many customers due to COVID-19, FPL will instead request permission to give customers the total annual savings in a single month's bill. Business customers will also see a significant one-time decrease in May, that will vary by rate class.
"Everyone at FPL understands how critical it is to continue to provide reliable electricity and to keep as much money as possible in our customers' pockets," said FPL President and CEO Eric Silagy. "Traditionally, our regulators expect these types of savings to be spread out over the balance of the year. However, challenging times call for exceptional measures. I believe this one-time bill decrease is the most effective way to infuse customers with much-needed money as we all navigate through this difficult and unsettling time together."
Local Resources
As new developments roll out each day, additional content is added that you may find useful as they serve our shared customers. In particular, the Economic Self-Sufficiency (ESS) page (https://myflfamilies.com/covid19/access.shtml) includes information and updates about public benefits. Please check it frequently for additional updates. This website is the fastest way to learn more about changes that are being made during this pandemic and to connect with important resources.
ACCESS
To safeguard the public and employees from the spread of COVID-19, all ACCESS storefronts and lobbies are currently closed to public access. With more than 90 percent of customers filing for benefits online or by phone, closing  storefronts to protect our employees and the public is the best mitigation strategy to prevent the spread of COVID-19. The quickest way to make changes or check the status of your benefits, and avoid any wait time, is to use the ACCESS Self-Service Portal, which is available 24 hours a day, seven days a week.
To apply for food assistance (SNAP), cash assistance (TANF) or Medicaid, individuals should go to https://www.myflorida.com/accessflorida/.
Clients logging in to the ACCESS Self-Service Portal should go to https://www.myflorida.com/accessflorida/.

Customers are required to complete an interview to receive benefits. Customers should call 1-866-762-2237 or 850-300-4323 (TTY 1-800-955-8771) to complete an interview telephonically.

Customers can order an EBT card, get information about EBT transactions, or report an EBT card as lost or stolen at https://www.myflorida.com/accessflorida/ or by calling 1-888-356-3281.

If you have trouble understanding English or need help communicating with the Department of Children and Families, Economic Self-Sufficiency Program, please call 1-866-762-2237 or 850-300-4323.

If you are an individual with a disability and need help with the application process or other ACCESS services, please find the region point of contact listed at the following website: https://www.myflfamilies.com/service-programs/individual-with-disability/auxiliary-aids-plan.shtml.
Recertification Extension
To ensure Floridians can safely access SNAP, TANF, and Medicaid benefits, DCF has implemented a six-month recertification extension for individuals and families scheduled to recertify in April or May

Extending the recertification period, allows the state to ensure the continuity of, and safe access to, SNAP, TANF, and Medicaid benefits during the current public health crisis and periods of social distancing. For more information regarding Florida's benefit programs during this time, please visit https://www.myflorida.com/accessflorida/ or contact the customer call center at 850-300-4DCF.
To check the status of your recertification, log into your MyACCESS account here: https://www.myflorida.com/accessflorida/.
Work Requirements Waiver
At the request of Governor DeSantis, and in accordance with the federal Families First Coronavirus Act, the Department of Children and Families (DCF) will waive work requirements for individuals participating in the Supplemental Nutrition Assistance Program (SNAP) and Temporary Assistance for Needy Families (TANF) program.

DCF and the Department of Economic Opportunity have partnered to apply good cause statewide for TANF and SNAP recipients normally subject to participate in mandatory work requirements as a condition to receive program benefits effective immediately. The temporary suspension of mandatory work requirements will alleviate any undue burden during this public health emergency on individuals normally required to participate in these programs with no disruptions to the receipt of cash and/or food assistance benefits.

To check the status of your benefits, report changes, receive information faster by opting-in to receive electronic notifications, and upload documents 24 hours a day, 7 days a week, log into your MyACCESS account here: https://www.myflorida.com/accessflorida/.
Maintain Medicaid Eligibility
We will maintain Medicaid eligibility for current recipients through the last day of the month of the state of emergency. This means no Medicaid recipient will lose Medicaid eligibility during the state of emergency. We are working on notifying recipients who may have received a termination notice in the month of March that their benefits will continue.
Extend Time to Complete Medicaid Application
During this state of emergency, individuals applying for Medicaid may be unable to submit all the documentation required to process their application. Beginning with applications received in February 2020, we are extending the timeframe for individuals to submit any necessary paperwork to 120 days from the date the application was received. If the Medicaid application is approved, the individual's Medicaid eligibility effective date will still be the first day of the month that the initial application was received.
ECONOMIC SELF-SUFFICIENCY PROGRAM INFORMATION

English

Spanish

Haitian-Creole
Family Resources
Educational Resources
How to talk to children about Coronavirus
We are here to be a supportive resource during this time. Please feel free to contact us.